Kung Fu Las Vegas

Lohan School of Shaolin
3850 Schiff Drive, Las Vegas, NV 89103
702-364-5875
< Lohanschoollv at hotmail dot com >

Martial Arts, Education and Training
Kung Fu, Tai Chi, Chi Kung Taught by the Masters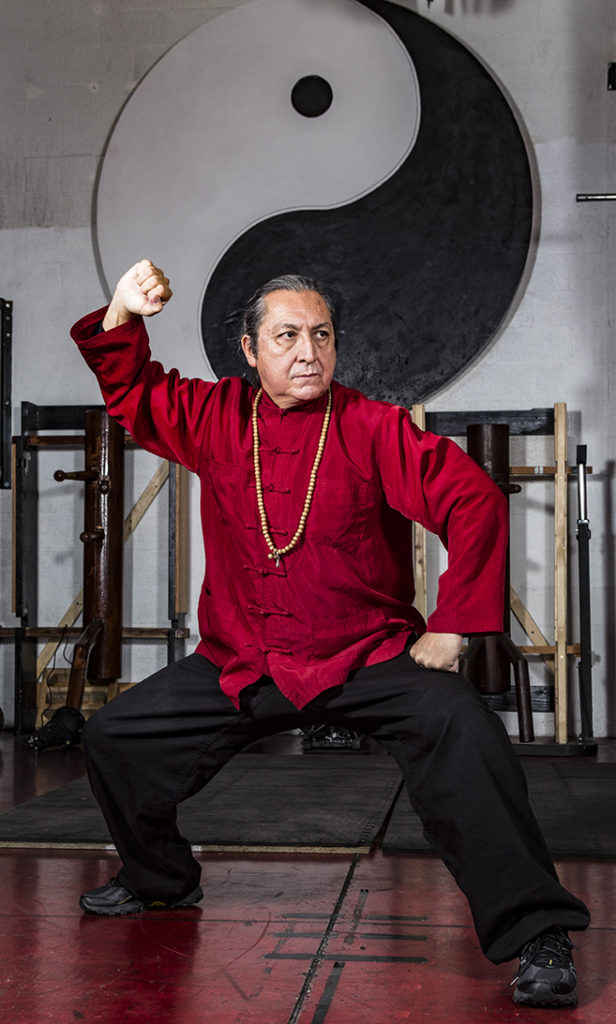 Dashi Steven Baugh
You have found the Lohan School of Shaolin, Las Vegas' center for traditional Kung Fu, Tai Chi and Chi Gung instruction. From the young to the mature student you'll be trained and educated by masters in the martial arts. The Lohan School of Shaolin located in China Town, Las Vegas and we pride our selves with the family and welcoming atmosphere at our school, no one is turned away. Sharpen your skills set, young or old, starting or starting over.
Build your strength | Build your self esteem | Build your confidence
Build your Kung Fu family!
Lohan Master instructors train and live Kung Fu, recognized in the martial arts community as highly skilled masters of their art. You'll learn skills and the spiritual reason for Kung Fu and it's history.

Sifu Yuko Brazil
Some of our Classes:
Young People's Kung Fu Class (kids)
Shaolin Basics All Levels
Praying Mantis Class
Sword Sparring
Sparring Class
Over 35 Kung Fu Classes
Lion Dance Practice, Kettle-bell & Strength Conditioning

Sifu Raul Baugh

Sifu Fa Neng Lance Brazil SFG


We practice, teach, instruct and live the ancient principles involved in many of the Eastern Martial arts, Starting with our young classes to seniors. Our expert teachers are masters of their art, not just a part time activity, but a way of life and have no greater pleasure than involving youth in the martial arts of Kung Fu or Tai Chi helping them to achieve self esteem, compassion and a skill that will last a lifetime.
Lohan School of Shaolin offers weekly classes on all levels at very reasonable prices in a secure and friendly atmosphere located in Las Vegas' China Town, we encourage all to come and experience the level of professionalism and commitment of our trainers and take a first lesson free.
To be concerned with the revival of the original concepts of Shaolin Kung Fu and Tai Chi Ch'uan.
To demonstrate that these concepts are applicable in the modern world.
To ensure Tai Chi Ch'uan and Shaolin Kung Fu have been a place in history and in modern society.
To maintain the spirit of rediscovery and reawakening of ideas, ideals, and natural principals.
To offer an alternative way of life, without drugs, medications, or artificial stimulation.
To educate others to be healthy and fit, and to be in touch with themselves, others, and the environment.
The state of the art should be maintained, developed, perpetuated and shared with those who seek health and fitness naturally and holistically.
All Are Welcome!
The Lohan School of Shaolin admits students of any race, color, national and ethnic origin to all the rights, privileges, programs, and activities generally accorded or made available to students at the school. It does not discriminate on the basis of race, color, national and ethnic origin in administration of its educational policies, admissions policies, scholarship and loan programs, athletic and other school-administered programs. Lohan School of Shaolin is a non-profit organization Fed ID # 88-0376799.
Contact us today for more information:

3850 Schiff Drive, Las Vegas, NV 89103
702-364-5875
< Lohanschoollv at hotmail dot com >