Twenty six Lohans traveled to San Diego to participate in the kick-off for the 2010 International Chinese Martial Arts Championship (ICMAC) which was the first gathering of the East and West Coast Shaolin schools. Even though the trip from Las Vegas to San Diego was through rainstorms, fog, blizzards, slush and hail, we all made it safely with no damage done to the securely wrapped lions and drum.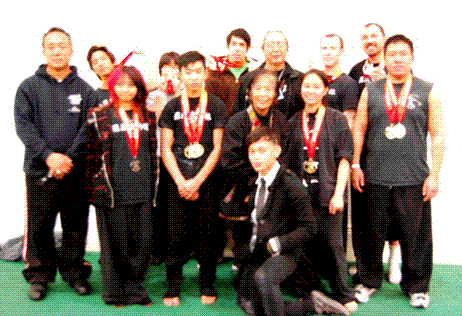 The Lions did a great job for the opening ceremony and again with the Masters demonstration at the end of the first day. Calexico Lohans from our sister school, "Temple of the Sun Martial Arts Academy" in California, joined us in a fast improvisation which added flair to our regular routine and can be seen on our website "lvlohans.org" then clicking on the link "You Tube-videos".
Nine of our Lohans competed… and all of them came away with medals; which included gold, silver and bronze… some of them winning in more than one event.
Sifu Nick Scrima from Florida did a fabulous and successful job in putting on this long-awaited collaboration.
Medalists:
Kate Andaya: Women's Sword and Shield (SILVER)
Joey-Ross DeChavez: Sparring (GOLD, SILVER), Mantis Form (Bronze)
Renee Ogawa: Int. Sparring (GOLD), Chi Sao (SILVER)
Buddha-Jay Ymson: Adv. Sparring (GOLD), Chi Sao (GOLD)
Ezechiel Ortega: Mantis Form (GOLD)
Jett Zendel: Int. Sparring (GOLD), Mantis Form (SILVER)
New Wong: Adv. Sparring (GOLD), Chi Sao (GOLD)
Lance Brazil: Jian Shu Sword Sparring (GOLD)
Keoni Everington: Adv. Sparring (SILVER)